Halloween Fun at The Corner Coop
I hope you are all getting ready to have a great Halloween full of dressing up, treats and fun. Weather is fantastic in my area right now. Festivities are extra fun when the weather cooperates.
Today we went over to visit Paxton's Corner Coop. I just love small towns. This is a small business, in a small building with big quality cupcakes, ice cream and more treats. (cookies, cinnamon rolls and various brownies or holiday related sweets).
The owners and employees are always so nice and friendly. Ya know, it really is the little things. This little business does a little something extra special sometimes around the holidays for kids and families, and in turn, that's always a big deal for that kid and family. Stuff you won't see in my picture's here are coloring contests, handing out candy, door prizes. Many little things, make a big difference.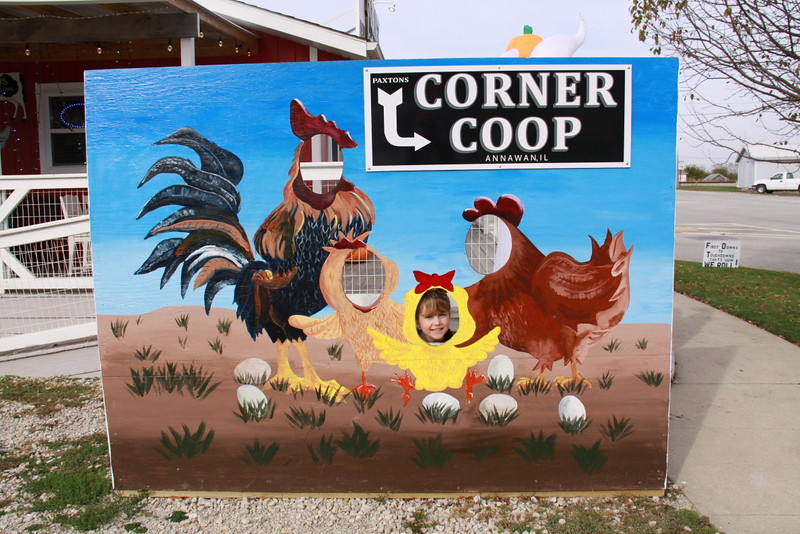 The first thing we did was get in line for the face painting by the most awesome, most talented face painter in the area. Whimsy Pixie Paint. We hit her up any chance we get. Not only is she a phenomenal face painting artist, she's soooo nice to the kids. Well the parents too, but she's just so good with every child. Which is a big deal to us Mom's.

Obviously she was getting a leopard theme today to go with her costume.

Oh, the other good thing about her is that she's quick too. So when you are in line, it doesn't seem like ages to get up to her.

If you ever see her at an event near you, you must go check her out.

Ta-Da ! Ashlyn requested to not have her full face done. She prefers less makeup. She was so happy with how it turned out.

Few pic's around the outside of the Coop.

A mini corn maze out back. She went through about 15 times.

If you are ever in the area, you definitely need to stop in and try some of their wonderful cupcakes or other awesome treats. Thanks for keeping the fun alive Corner Coop.

Hope you all have a fun and safe Halloween !!

What are you or your kids dressing up as for Halloween this year?
What is your favorite holiday?