One of my Favorite Towns…Perth, Ontario (Canada) – Part 1
I would love to live in this town if it wasn't in Canada. I have no beef with Canada itself, I love Canada, it's just their cold winter's I dislike. If Perth, Ontario was much further south, it would be my permanent address no doubt.

It's such a nice and clean town. So many neat shops, along with your basic grocery and retail stores. It's got a bit of a historic feel, if you are from my area, it really reminds me of Galena. It just sucks you in and you can't help but love it. It's a beautiful town.

Places to Stay
Please refer to photo's on the website's link I provide. I wasn't planning on doing this for the blog (last minute decision) so I did not take good photo's, just random remember our trip photo's. 
Tay Inn 
This is the only place we stay. It's a small little hotel owned by a husband/wife. The nicest people. Rooms are clean and well kept. Price is fair and you can't beat it for what you get. One level and you park right in front of your door. They do not offer coffee or complimentary breakfast, but they do not need to. There are plenty of choices very close by. Tim Horton's being one of them.


They keep the outside just as clean and well maintained as the inside. If you need anything, it's like calling a neighbor, not like the front desk anywhere else.
The room's are nice, it just looks messy because we got in late the night before and I just snapped a few quick picture's like I always do of our hotels for our benefit. Again, not thinking I'd be doing a post on it.
Fridge & microwave in here, which is always nice for bottled water and popcorn.
Bathrooms aren't huge, but they are big enough. And again, they are clean and that's most important to me. And everything worked. It was well stocked of essentials. I'm a happy camper.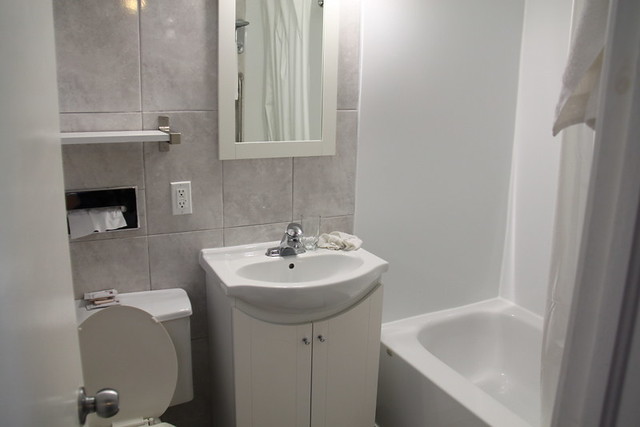 Very well landscaped.

And the most important feature…a swimming pool. Why else do you travel all the way to Canada. To use their pool of course.




Places to Eat
Many many places to eat. We could not try them all of course. But you will not be lost for choices.
 
Michael's Table
Where do I start. Michael's Table is one of those places I could eat every meal at every day for the rest of my life. That pretty sums it up. The appearance of the restaurant is spectacular. The bathrooms are awesome. They are large, clean and they look so cool. Pretty fire place in the dining area. The staff is always friendly. And the food is to die for. We have eaten a variety of food (salmon, steak, pasta, chicken, fish & chips) and it's all been wonderful. Beautifully displayed on your plate, and oh so good. Price seems a little high just looking at the menu, but portions and quality easily make that a fair price. 
Penny's Place
This is a little diner we ate at several times. Again, the price seemed high at first, but you will not leave this place hungry, guaranteed ! And it's good ol home-cooked awesome food. (we had smoked meat, burgers, grilled cheese, breakfast foods like pancakes & omelets).
Mex & Co
This Mexican restaurant overlooks the gorgeous Tay River. Location is excellent. We only ate here once, and it was very good for a great price. Only reason we didn't go back is my

daughter

is not a fan of this type of food. But the adults enjoyed it and it's always busy here. They have kid food here, she's just a little on the pi

cky side.





Downtown
Old pretty buildings. Cleanest streets I've ever seen in my life.
   
I've only ever had time to window shop but would love to plan a few extra days to go in them all and check them out.


Birds
All around this surrounding area, near fast food places, you will find these kamikaze birds begging for a fry or anything you are willing to give up. I don't suspect it's the best diet, but they are not afraid to come right up to you. I wouldn't doubt they'd grab the cheeseburger from your hand.
After you feed them….
you chase them away !!
Lockstation
In Smith Falls, not far from Perth, they still utilize the older lockstations that are cranked by hand. We watched several boats go through the Rideau Canal Locks. In a nutshell, they allow them in through one side. They close both ends, the water fills up, and they then open up and let them go through. That of course being a very poor non detailed description. Either way, it was pretty cool to see.



 
Mammoth Cheese
This is a replica of the exact size of The Mammoth Cheese from Canada that weighed 22,000 lbs. Back in 1893, 12 cheese makers were invited to participate in making a giant cheese to be exhibited at a Chicago Fair. It made a heck of a trip and crashed through the floor when it finally arrived.
Interesting story if you would like to read about it.
Stewart Park – part Two (the most beautiful scenic park ever)


Have you ever been to Perth, Ontario?
What is your favorite place in Canada?
I was not compensate in anyway by anyone mentioned in this post. I just love this town, these places and wanted to share.