Eastern Caribbean Cruise – Grand Turk, Turks & Caicos – Part 5 of 5
Oh boy, are you ready for some beautiful water photo's. This is a tie with St Thomas on which one I want to go back and visit first.

Grand Turk was beach day for us. Ending our port stops with some R & R.

Sorry for the dirty speckles. I didn't realize my camera lens was dirty.

We didn't venture out beyond the beach, but from what we could see from the boat. There's not much city life. Looks to be very small town'ish.

The water was amazingly gorgeous !!! As in one of the best I've ever seen.

I was worried it would be too packed with people from the boat to enjoy it. But that was not the case, you still had plenty of space to fully enjoy the beach and swimming.

To the left of the boat dock, it's more sandy beach with chairs up front to rent. Chairs in the back are free.

To the right of the boat dock is a more rocky beach. No chairs and way less crowded. But the other side was fine so we never came over to this side.

Clean, amazing water. Let me tell you how wonderful this water is. If you know me, you know I don't go more than knee deep in the ocean. Because of sharks. I watch the news people, it happens ! I got in here, and swam….for a long time. Without watching for fins. If that doesn't tell you how awesome this water and beach was, I don't know what does.  Remember my FL post, they are close to shore.

This was the rocky side.

Landscape was very pretty and immaculate here.

Little shopping area. We briefly hit a few stores then hit the beach. So very clean and well kept everywhere ! I can't say the people we ran across here were friendly, but they weren't unfriendly either.

Had to steal another shot of the boat with virtually no one in the way.

Crystal clear. There was a few rocks on this side, you'd have to be a little careful to not stub your toe. But not bad. Mostly sandy.

Yep, at the top of my list of places to return too. Cruises are so great to give you a glimpse of places you've never been. A sneak peek to see if you'd like to come back longer or not. As opposed to spending money to come for a week, at each of these places we visited, on 4 separate vacations.

Ahh, finally able to hop in. Ashlyn took some footage with her underwater camera, so be sure to check it out at the end.

There we are in the center. Jamie isn't quite the water rat that Ashlyn and I are. He stays out and only gets in occasionally. We stay in and only get out occasionally.

This was not the best place for getting shells. But she found a few neat treasures.

Coconuts ! Why do I need a picture of these? I don't know, why not !

Directly behind the beach are some grass huts….a bar, a little shopping area, a snack area and Jimmy Buffett's Margaritaville.

She loved this. I think we need one in our little porch sanctuary at home.

Wish this would have been going. One of those flowriders.

Jimmy Buffett's Margaritaville is literally right off the beach. They even have a foot rinse right there to rinse the sand off your feet, because you walk right off the sand to here.

So, we brought up a point to make. You know these swim up bars? You ever notice how many people sit and drink and drink and drink….but they just never leave. Well, when I have a beverage or two, whether it be alcoholic or just water….after awhile…I'd have to make my way to the ladies room. But these people never leave.

So we hung out in the pool where no one else was.  Actually all 4 pools are connected but with not many swimming, I'm hoping it's not circulating well.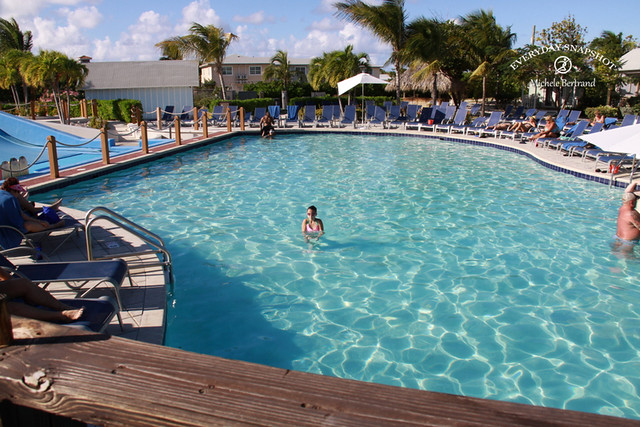 Either way, you are not keeping this girl out of the water.

I had read how over crowded and packed this place could be. But it sure wasn't at the time we were there.

There was soooo much space, it wasn't over packed no where. In the front rows, you had to rent the chair space.

These back rows were free and you had some shade that way. But your view may have been blocked, so just depends on whats important to you.

The sand was pretty good. Smooth for the most part, you'd occasionally step on a few rocks/shells. But not bad.

Very few sections like this to go through.

By late afternoon the waves picked up.

Not sure if she was supposed to be up in this chair, but only takes a few seconds to break rules for a quick pic.

She loves the waves.

Got nailed with this one.

We had to do some persuading and convincing that it was time to go. The boat would leave us. She didn't understand the problem, and neither did I. The boat leaves, and takes all these people except us….seems like the perfect deal to us.

Ok, ONE more stand on the way out. Must have had a few bucks left and surely we don't want to come home with money in our pocket.

Little palm tree, perfect for our pool area at home !!

We hated to leave. It was a great day.

If you are a beach person at all, Grand Turk is highly recommended by me. And we never even made it past this part. There's still a whole island to check out.

Video is of the same picture's with extra photo's too. Also some of Ashlyn's underwater camera footage.  The swarm of angelfish is my favorite !!
Eastern Caribbean Cruise – Carnival Magic Travel & Cruise Ship – Part 1 of 5
Eastern Caribbean Cruise – Amber Cove, Dominican Republic – Part 2 of 5
Eastern Caribbean Cruise – St Thomas, US Virgin Islands – Part 3 of 5
Eastern Caribbean Cruise – San Juan, Puerto Rico – Part 4 of 5
Eastern Caribbean Cruise – Grand Turk, Turks & Caicos – Part 5 of 5